Techorating — updating or furnishing a home incorporating technology — is remodeling's Latest Essential. By Danielle KarrFor 2019, having a stunning and spacious kitchen simply isn't enough. People are looking for fresh ways to make their lives simpler and more beautiful, and smart home technology is this year's essential addition for any modern kitchen. Thanks to the growing number of devices that are coming online, it's easier than ever to make "techorating" a central component of any remodel or new design. Here are five of the hottest trends for kitchen technology for projects in the year ahead.
VOICE CONTROL A voice control device is a quick and easy way to add the convenience of technology to a kitchen. Right out of the box, homeowners will have the ability to use voice control for music streaming, kitchen timers, reminders, and even hands-free recipes. If the home has any smart door locks, automated lights, smart thermostats, or other connected devices, voice control can most likely integrate with those products as well provide touch-free home control.Where to get started with this trend:Amazon Echo Devices
SMART STOVE KNOB Turn any existing stove into a smart stove with an easy knob replacement. Smart knobs allow homeowners to set cook times and burner settings, use voice commands, and access the stove remotely on a mobile device. Some devices will even send reminders to a smart device about when to flip, stir, or add ingredients to a recipe. If a user desires, the stove can even shut off if there is no motion detected for a period of time, preventing stove fires or accidental burns. Homeowners will love the peace of mind these knobs provide.Where to get started with this trend:INIRV Smart Stove Knobs
SMART LIGHTING Dwindling are the days when lighting is controlled with a simple switch. In 2019, the hot trend for lighting is all about the scenes and moods that lighting can set through home automation, allowing lighting brightness, color, focus, and mood to easily be adjusted by users. For example, a homeowner can select a lighting configuration that is brighter for kitchen prep and cooking, and then, with those same lights, have another configuration that sets more of a low-light, warmer entertaining mood later in the same space. Easily achieve this in a kitchen by selecting a lighting brand or smart-home brand that offers a "scene" capability for lighting.Where to get started with this trend:Control4 Smart LightingMOTORIZED CABINETSMotorized cabinets are beneficial for kitchen convenience as well as accessibility. A kitchen cabinet lift solution transforms a kitchen into a clean, accessible paradise. With the touch of a button, cabinets quickly and quietly lower to the countertop level to access stored kitchen appliances. This techorating trend brings a clean look to any kitchen while keeping homeowners with compromised reach abilities safe.Where to get started with this trend:GRASS Movement Systems
VIDEO ACCESS Smart video access devices connect a doorbell to a smartphone, touch screen, or any other mobile smart device. This is perfect when in the kitchen while preparing a meal: When a visitor presses the doorbell, a built-in camera instantly sends video to a phone or touch screen. Users no longer need to stop what they're doing to answer the door; they can now simply identify the guest via the one-way video feed, speak with the visitor over the two-way intercom, and then decide whether to tell the guest to come on in or to come back later — all without missing a knead or stir.
Where to get started with this trend:Control4 Intercom Anywhere Danielle Karr is a Certified Showroom Planning Specialist for Control 4, a company that provides smart-home technology through enhanced connectivity solutions.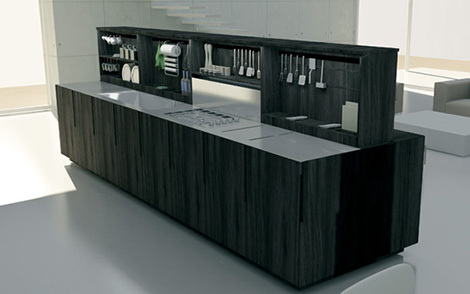 Binova Anima motorized concept kitchen